By working with small-medium businesses and marrying the owner of a creative agency, I hear a lot of questions regarding the value of marketing.
But is marketing actually valuable? And should you pay for it? In this article, I'll explore examples of relevant marketing, what you can achieve for "free", and whether it's worth parting ways with your well-earned cash.

Whether you spend time or money on marketing, you're making an investment in yourself and your brand.
Your investment generates value, a currency that can be exchanged for attention, loyalty, and, yes, sales! How? Well, when you create a plan for how you want to reach people, and how you want to be remembered, you can decide where the best place is to invest your resources.
By joining up your approach for things like tone of voice, visual identity, and where you have a presence, you are setting an expectation of what it's like to work with you.
"That's great, Devon, but how is that going to create value for my business?"
Word-of-mouth is a great way to tap into your fans' social groups to get recommendations and tip the balance of the scales in your favour when someone considers your service.
For example, you have a bloomin' amazing coffee shop serving the best quality coffee in town; however, you're just not getting the footfall. Ask your team to regularly converse with your coffee connoisseurs.
You could get them to recommend your shop on review sites, or in person, as a relatively low-cost idea with a considerable impact.
Better still, focus on one or two unique factors that set you apart from other shops and be confident that your happy customers are selling your coffee — for you!
Online review sites like TripAdvisor let people who are out of the social circles of your customers see what they think.
A nod of the head from a real person is just the social proof people need to get through the door, a shake of the head can be a massive turn-off and so make sure you manage your reputation.
"95% of people aged 18–34 read reviews before buying from a business"
Local Consumer Review Survey
Social media is usually just a tap or two away, and it's easily accessible to your business.
Back in 2015, a fledgling UK flower shop used a community of visual shoppers on Instagram to influence their direct sales. This resulted in an increase of over 62% on one product line.
Making use of a small advertising budget, Bloom & Wild was able to target potential customers that were similar to ones they already had, test different text/images, and share content that represented their brand story.
That was five years ago, they're now taking on the supermarkets with an even larger group of loyal customers, with social media contributing to a considerable portion of sales.
All of the leading social sites have a set of tools that you can use to measure engagement.
Running tests on social media not only introduces people to your brand but also informs you about what works and where you're most likely to see the most significant returns.
The example above for Bloom & Wild is just one example of advertising. However, testing can happen at any level and should always be part of your overall marketing strategy.
Another option would be to create tests without paying for advertising.
Predicting and recording how people interact with your social media or email content will help you to focus your time and attention on what matters most to your audience.
To pay or not to pay?
Whether something has a financial cost (or not) boils down to two factors: your skills/time and growth.
Let's be honest, if you're a marketing specialist with plenty of time on your hands, you might not have to use much external support, to begin with.
It's also essential at the early stages of your business that you remain authentic and sometimes going straight out to agencies (who don't understand your brand) can reduce that — good agencies/teams will spend time with you to understand your values.
If you don't have the experience, or time, using the skills of others is the best way to make sure you're making the most of what's available.
Paying to make money, save money, and save time are wise investments. Outsourcing, or insourcing (if you're hiring), can give you access to some of the best talent and mean that you can effectively use the time and experience of others to exponentially grow.
By spinning many plates, you're getting distracted from improving and working on your own business.
For smaller companies, there may not be as many plates to spin, and depending on your risk strategy, you may consider faster or slower growth which is both okay.
Let me level with you.
Taking risks and testing is a crucial part of marketing, but you must only pay what you can afford.
Your current cash flow, savings, and projected income will play a role in how much risk you can take. Just like with any investment, you'll want to decide whether you are a low, medium, or high-risk taker. For businesses with a lot of financial support and ambitious growth plans, the risk might be very high.
On the other hand, smaller companies just starting out should adopt a low-medium risk strategy to slowly grow their business.
Growing too fast, or running out of money, presents a serious risk that should and can be managed with the right risk management structures in place.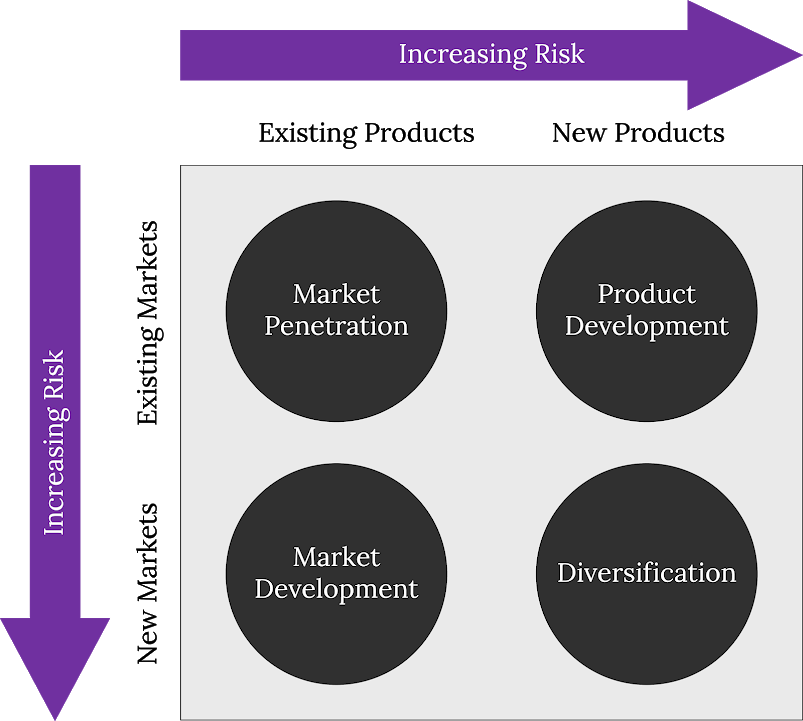 A tool that can help you decide on growth/risk is the Ansoff Matrix. By using the matrix you can decide whether what type of risk is necessary and how you can better invest your resources.
High risks could include more extensive campaigns with big budgets, such as appearing on TV and in national newspapers.
Low-medium risks could be small testing budgets on social media or developing your brand identity.
Spending time, and money, on activities that have a lasting impact, is a good plan for smaller businesses (e.g. your logo might not instantly generate sales, but it will make you memorable and help convey your brand values).
Creating long-term value
Investment in marketing shouldn't be considered an expense — you're creating long-term value.
Whether you pay for marketing depends on if you have the time or experience already and your risk strategy.
Remember, not all risks are wrong, we take risks every day, and for the most part, taking a chance over a long period can produce positive results.
Think of marketing like pensions and education, you're spending time or money now so that you'll be able to reap the rewards in the future.